Ingredients
Seasonings & Spices & Herbs & Salts & Flavorings & Extracts
Salty Snacking, the Great American Pastime
Worth its Salt: Humans crave salty snacks because we need sodium chloride to maintain electrolyte balance in the body
September 16, 2021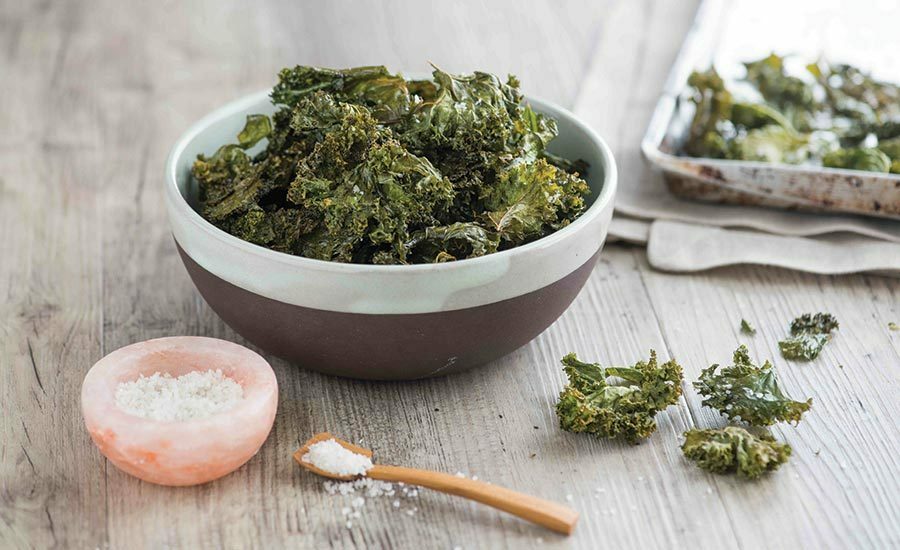 In the pantheon of snack foods, "salty and crunchy" stands on the highest pedestal of cravings. "Salty snacks are supremely satisfying to all consumers," says Elisa Maloberti, director at the American Egg Board. Everyone has a favorite salty pleasure, whether it's buttery, hot, freshly popped popcorn, the shatteringly crispy crunch of thick kettle-style potato chips, or cheesy cauliflower protein puffs.
Salty snacks deliver because humans, like most mammals, need — and thus crave — salt. Sodium chloride is important to maintain electrolyte balance in our bodies. Both sodium and chloride are critical for optimum nerve and muscle function, including heart rhythm. At the same time, salt is a flavor enhancer that makes foods even more craveable. It also is an essential carrier of other flavors.
The average person eats the equivalent of 96 one-ounce bags of potato chips each year. That comes to 2 to 4 billion pounds of potato chips eaten per year in the US. An estimated 12 million pounds of potato chips are crunched on Super Bowl Sunday alone. IRI retail sales data show that salty snacks have been the No. 1 food item contributing to sales growth at retailers since early March, when consumers began shifting purchasing priorities to accommodate stay-at-home lifestyles.
PepsiCo's Frito-Lay North America, Inc. reported the same escalating demand in sales. Data reflect increases of 32% for the company's Lay's brand potato chips, 65% for its new Cheetos popcorn line, and 42% for its Tostitos tortilla chips.
Basic Needs
Snack time has become even more fluid than usual, with people eating an average of two to three snacks throughout the day. This also has translated to a consumer desire for increased snack variety. To that end, consumers are mixing the comfort of old favorites with new flavors in familiar formats, and trying things they might not have tried before, especially in the "better for you" snack category.
"Overall, consumers are demanding healthier choices as they continue to replace meals with snacks and graze throughout the day," says Maloberti. Plant-forward formulating meshes with ongoing demand for higher protein content. Snacks aren't designed just to be crunchy and taste good. In some cases, products are developed with complementary ingredient combinations to optimize the vitamin and mineral content.
This has led to a surge in seemingly contradictory trends: traditional salty snacks as nostalgic and comforting indulgence, opposing more health-conscious salty snacks that address specific dietary needs and preferences. "With the recent pandemic, health is even more relevant and top of mind," says Kyle Banahan, vice president of Amplify Foods, Inc. "During stressful times, consumers revert to foods and flavors that are comforting and familiar. We are seeing childhood, nostalgic snacks get a revitalization." Such snacks include chips, crackers, pretzels, puffs, and popped grain items of all kinds.
"Anything salty is doing well," agrees Jody Denton, executive research chef for PepsiCo Global Snacks and Frito-Lay North America. He notes that the company ramped up production when demand suddenly spiked. "We bled through our huge inventory within a month; all the plants started running full blast."
To streamline production so consumers wouldn't see empty shelves, Frito-Lay concentrated on producing a lot of the most popular items as quickly as possible, particularly all of the plain salted items in its portfolio.
Crunch with Purpose
Then there's the consumer drive for simple, clean-label products that have specific or perceived health benefits based on key ingredients. Examples include chips made from sweet potatoes, cassava (tapioca), and other roots and tubers; chips and crackers made from whole heritage grains, such as millet, quinoa, or amaranth or legumes such as chickpeas or lentils; vegetable-based protein snacks that replace meat; and vegetables such as cauliflower standing in for grain-based flours and starches in items like crackers and pretzels. Health and marketing claims including "non-GMO," "organic," and "gluten free" lead the way in marketing and advertising and on product packaging.
Products standing out today rely on various combinations of nuts, seeds, and legumes as well as alternative flours and starches from root vegetables such as potatoes, rice, and other grains to provide the desired balance of texture, taste, and nutrition.
Pop Art Snacks, LLC, offers an example. The company's snack line is based on air-popped popcorn from non-GMO corn. Their products are certified gluten-free and kosher and use either avocado oil or olive oil. "Our Mediterranean flavors rosemary truffle and pepper parmesan use olive oil," says company co-founder Venessa Dobson. "And our cheddar jalapeño, Hawaiian sea salt, and seaweed sesame use avocado oil for creamy flavor and mouthfeel."
Other novel and alternative flours are piquing consumer interest, especially those tailored to specialized diets, such as gluten-free. Green banana flour is gluten-free, paleo-friendly, and adds fiber in the form of resistant starch. Tiger nut flour, another fiber-rich ingredient with a slightly sweet and nutty flavor, supports satiety and a low-glycemic response.
Protein Pros
Another influential trend has been the rising interest in functional snack products, particularly those that feature added protein. Recently, IRI reported that new grocery products making protein claims are increasing at 9% each year, with several categories seeing double-digit sales growth, including snacks at 11%.
Beans, pulses, and legumes continue to gain popularity as a plant-based protein source for many crunchy snacks, such as The Good Bean Co.'s crunchy hummus-chickpea bars and whole-bean snacks made from either whole crunchy chickpeas or fava beans. The whole-bean products come in flavors as basic as sea salt and as on-trend as balsamic–herb, Habanero-citrus, and chili-lime.
When working with gluten-free starches and flours, bean-based and other alternative or "free-from" snack bases, snacks may lack the necessary structural integrity to support processing, cooking, seasoning, and packaging. Fortification with egg whites is one way to both increase protein content and improve the structural integrity of the snack matrix.
The Egg Board developed a formulation around the idea of a savory egg-white "meringue" Superfood Spinach Pesto Protein Puff. It relies on high-whip egg whites for their foaming, whipping, and aeration functional properties. Along with the protein from eggs, these savory snack puffs have additional protein from parmesan cheese and toasted almonds. Rice flour contributes a light, crunchy texture and keeps the puffs gluten-free, which continues to be a guardrail for many salty snack brands.
Cheese and Nuts
High-protein and low-carb diets continue to be a major focus for consumers — a focus that seemingly could clash with salty snacks, as they so often are based on flours and starches. That's where cheese comes to the rescue.
Cheese provides a great savory base for keto and other low-carb eating trends. Specialty Cheese Company, Inc., recognized that and launched its Just The Cheese line of crunchy cheese snacks a couple of years ago. The products are made of baked Wisconsin cheese and available in a bar form or bagged as little buttons of crispy baked cheese.
While other companies have launched cheese crisps for a number of years now, the key with the Just The Cheese products was getting the texture precisely right so the product holds its shape for a longer shelf life and better consumer experience. Flavors include Wisconsin sharp cheddar, white cheddar, "grilled cheese," garlic and chive, and jalapeño.
In spite of their cravings for protein and other better-for-you ingredients, consumers still default to taste as the primary consideration. "While people say they are striving to lead healthier lifestyles, indulgence is still a major driver for snack purchases," notes Laura Gerhard, director of strategy for Blue Diamond Almond Growers.
This is supported by a recent Innova study that revealed 40% of Americans declare taste as a significant motivator for their salty snack purchases, and 22% actually view salty snacks as a treat or reward. Nutrition is important to these consumers, but they are also interested in new and exciting flavor experiences, crave-worthy textures, and decadent mix-ins. Snack developers are focused on balancing those expectations while creating better-for-you products.
Almonds have been ahead of the curve in combining these factors, beginning with the original smokehouse almonds enjoyed for decades and branching out into multiple flavor options that add a bang to the palate with a toasty crunch. Almonds provide a guilt-free, protein- and mineral-packed, organoleptically complete snack.
Beyond Salt
Snacks will continue to be heavily influenced by greater culinary trends, such as spicy peppers, artisanal cheese, fermented ingredients, as well as koji for a newish source of savory umami flavor. And that classic umami flavor source, soy sauce, is ripe for wider usage with the availability of powdered soy sauces in a range of colors and depths of flavor.
Already in the pipeline: sticky rice chips and bars by Dang Foods Co., launched early this year and claiming to be "the first Asian-American snack brand in the US." Capitalizing on "health-forward" Asian-American snack food culture, the flavors include toasted sesame, sriracha, savory seaweed, and others.
Snacking has become a constant in our lives — we are doing it from morning to evening, with many other savoring moments and eating occasions in between. "Stay up to speed with your target consumer attitudes towards clean label ingredients and what their main priorities are," suggests Maloberti. "Your snack should not only deliver what consumers need, but also delight them with what they want." Influencers, social media, and online interactions are influencing millennial and Gen Z lifestyles and snacking habits. Make sure you have their attention, too, advise the experts.
According to the market research firm Packaged Facts, the salty snacks category — already worth more than $25B — is expected to exceed $30B within the next couple of years or sooner. And that's before consideration of the recent spike in snack sales driven by the recent pandemic. Still, the expansion of platforms from which salty snacks are being created means there's plenty of opportunity for product creators to mine.