Ingredients
Sugar & Sweeteners & Confections
Consumer Sweet Preferences Make Sugar Reduction Challenging for Product Developers
Beverages continue to lead all categories of foods and beverages with the greatest number of low/no sugar claims
August 9, 2023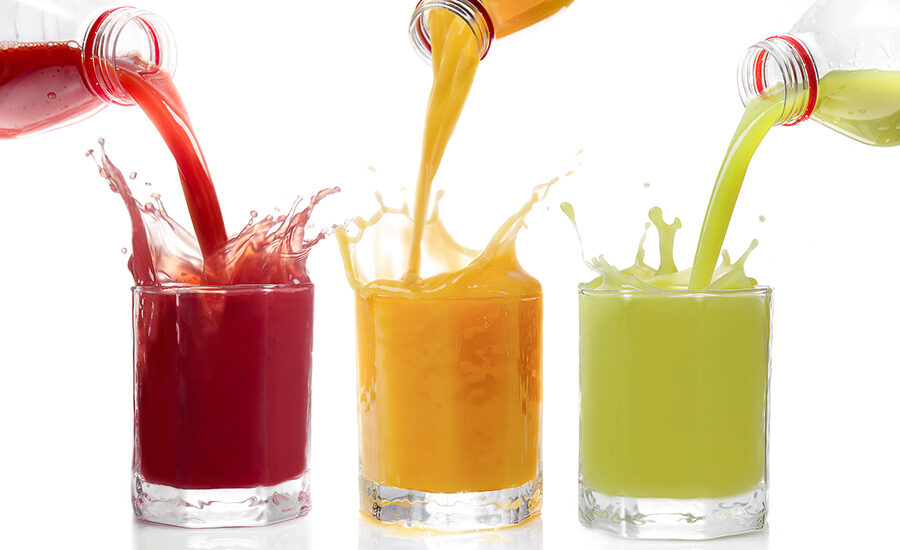 Global concerns over obesity, diabetes, and cardiovascular disease will usher in the new year's health and wellness initiatives. Consumers will engage in the annual effort to seek out food and beverage choices with more moderate amounts of nutritive sweeteners (i.e., sucrose and fructose), lower amounts of "undesirable" fats, and fewer calories. 
Beverages continue to lead all categories of foods and beverages with the greatest number of low/no sugar claims, based on a 2022 study conducted by Spoonshot. Reduced-sugar juices and smoothies top the beverage category, followed by carbonated soft drinks. 
In the canned and bottled non-alcoholic beverage space, replacing "syrupy" mouthfeel lost when nutritive syrups are removed can be one of the biggest challenges. Starches, such as xanthan gum, and other bulking ingredients can often remedy the mouthfeel challenge but may "muddy" an otherwise clean label for consumers opinionated about specific ingredients.
Teakoe Tea Supply Co. features a combination of honey, fruit juice, and stevia in its line of "Fizzy Tea" to achieve a total of 2-7g of sugar and 10-30 kcals per 12oz serving. The product line, which supports functional benefits from spices and botanicals, includes Strawberry Crème, with organic rooibos and sarsaparilla root, and Orange Ginger Punch, with yerba maté and organic hibiscus. The Honey Lemon flavor is sweetened with both organic raw honey and organic stevia extract and has 7g total sugars per 12oz serving.
GuTSY, LLC's Culture Pop Sparkling Probiotic Soda line contains 40 kcals per 12oz serving and no more than 6g of naturally occurring sugars from fruit juice blends. It also features live Bacillus subtilis probiotics, following the digestive health and immunity trend. Fruit juices and juice concentrates used at no more than diluted concentration levels defined by FDA standards can be labeled under total sugars but are not considered added sugars.
How Dry
Non-alcoholic beverages can be replacements for their alcoholic counterparts or add-ons for consumers pursuing greater moderation and, by definition, they contain less than 0.5% ABV (alcohol by volume). They appeal as a means of hydration, a source of nutrients and functionality, or serve to replace water, club soda, or high-sugar frozen drinks, such as virgin piña coladas or daiquiris.
Many trending non-alcoholic beverages playing in the bartending and "mixology" space can be as sweet as juice or a full-sugar soft drink, but more that are based on natural botanicals and herbs complemented with fruit and/or floral notes are emerging.
Alcohol and sugar are both vital for proper fermentation in beer and wine production, and they affect color, flavor, and body in the final product. Wines are dealcoholized typically by vacuum distillation, which follow some of the same steps of the vinification process that traditional winemaking follows, or by reverse osmosis. The residual sugar content can vary depending on the process or if the non-alcoholic wine never contained alcohol to begin with. (Think: grape juice.)
Mocktail options in the aperitif category include a full array of natural sweeteners designed to just add a hint of sweetness to round out and temper bitter or acidic notes from prominent herbs and botanical ingredients. Wilfred's Drinks, Ltd., crafts full-bodied Italian-style aperitives‑ drinks meant to stimulate the palate before a meal. The company's solution is to use real sugar‑called "English beet sugar" in its ingredient deck‑but to do so sparingly. 
Heglovich, LLC's For Bitter For Worse line of non-alcoholic beverages has turned to sweeteners such as white wine grape concentrate and non-GMO monk fruit. The company's Eva's Spritz complements bitter and sweet orange, hibiscus, and beet root notes in its non-alcoholic aperitif with the two natural sugar replacers.
Back to the Past
While beverages in the mocktail category often feature fruit-forward sweeteners such as watermelon concentrate, date syrup, raisin extract, or plum syrup, these are making their way into other beverages as well. All such natural, yet fully nutritive, sweeteners demonstrate the strength of consumer appeal for sweeteners regarded as more basic and traditional, while presenting distinctive flavor and sucrose-like sweetness.
Honey remains at the top of most lists for healthfulness in the minds of consumers and functionality for manufacturers. With more than 1,000 different varietals, a full spectrum of colors, and a Brix plus or minus about 82°, honey provides flavor, mouthfeel, and texture as a stand-alone sweetener and in combination with high intensity options to meet sugar reduction objectives.
Whereas sucrose and glucose syrups also add body and distinctive mouthfeel to beverages such as iced tea and tart, acidic, and sour fruit juices such as cranberry, pomegranate, and lemon, honey owns sustainability.
Hitting a New Low…in Calories
Allulose still awaits application approval in numerous parts of the world, including Canada and Europe, and its GRAS status in the US is limited to 30g/day. Allulose is considered a "rare" sugar with limited natural presence in numerous foods, including figs, jackfruit, and raisins, although it also can be found in grains and beets. Since the sweetener has achieved a price point comparable to that of erythritol, demand for allulose has sometimes exceeded supply lately, and it is found more in food applications than in beverages. 
While allulose is about 70% as sweet as sugar, with a flavor somewhere between sucrose and fructose, it has only 0.2-0.4 kcals/g and the body does not absorb it as caloric. It also recently received FDA approval to be exempt from "added sugars" declaration on the Nutrition Facts panel.
As an alternative, the raisins and figs in which allulose is naturally inherent have increasingly been used as nutritive sweetening options themselves. These and other dried fruit-derived sweeteners are available in purée, juice and juice concentrate, and paste forms.
An interesting new technology in sugar reduction was developed in Israel by Better Juice, Ltd. The start-up developed a process that converts sugars into prebiotic dietary fibers and other nondigestible molecules, resulting in as much as an 80% sugar reduction. Also out of Israel, another sweetener tech group has found a way to micronize sugar crystals so that more of the sweetness is captured on the palate and thus a little goes a long way. 
Other emerging sweetener technology employs designer proteins that can affect the sensory perception of sweetness in naturally tart or acidic fruit juices. Use of these in studies resulted in up to a 40% sugar reduction with enhanced sweetness acceptance.
Waste Not…
Historically, byproducts of juice, cider, and vinegar production—such as dried apple pomace, which consists of peel, pulp, and pip waste—have been regarded solely as high-quality alternative livestock feed. But a recent development in sugar replacement sweeteners is 5-D-keto-fructose derived from upcycled fruit and vegetable sidestreams. 
The sweetener has evolved to production primarily from imperfect and unmarketable apples and pears via fermentation and efficient bio refining and purification. The process converts the fruits' naturally occurring fructose into 5-D-keto-fructose that delivers only 0.2 kcals/g. The resulting sweetener is not yet commercialized for sale, but has a promising outlook for application in beverages, as well as in candy, frozen confection, and bakery items.
5-D-keto-fructose is purported to be allergen-free and non-GMO, in addition to providing sugar-like sweetness and functionalities, including bulking and texture. The sweetener also presents with low hygroscopicity and quick crystallization. Although the upcycling processes are still being explored for yield, cost, and other efficiencies, preliminary results support the technology for its sustainability and repurposing of waste materials previously regarded as animal feed.
Stevia Still Strong
The International Stevia Council notes that stevia was an ingredient included in 30% of new product launches globally and in the US in 2020-2021, and it continues to be highly favored by those who perceive it as healthy, natural, and sustainable.
Many companies that play in the stevia space prioritize looking for new glycosides and advances in production for existing options to improve accessibility and affordability. Functional build-back ingredients include bulking agents, natural flavors, and flavor modifiers that can help adjust and account for cost fluctuations, and provide better mouthfeel, flavor objectives, and functionality.
With up to 80% of consumers concerned about lingering notes with stevia, a key trend driving growth in the stevia market is the development of fermentation processes to produce rebaudiosides such as reb-M with greater purity and taste profiles increasingly closer to "gold standard" sugar.
Since stevia ranges from being 200-300 times sweeter than sugar, using advances in bioconversion to derive stevia from sugarcane presents exciting opportunities to create the next generation of sweeteners with greater relative sweetness than conventional sugar and with the characteristics needed to build back the functionality lost when sugar is reduced.
Alexa Bosshardt, MPS, RDN, is a research chef and expert in recipe formulation and nutritional marketing for food and beverage manufacturers. With a culinary degree from Johnson & Wales and multiple degrees from Cornell University, Bosshardt teaches ServSafe, culinary nutrition, and corporate wellness courses, in addition to her industry consulting. She is a regular contributor to Prepared Foods; you'll find her articles, videos, and podcasts devoted to the sweet things in life at www.preparedfoods.com. She can be reached at alexa@fitculinary.com.
---
How About a Date?
Two recent additions to the natural sweeteners well suited for beverages are derived from carob and dates. Both are prized for their health halo, sustainability, and vegan properties, plus both have the marketable identity of being truly biblical ingredients. As clean-label, plant-based sweeteners, they boast nutritional and health benefits such as minerals (iron, potassium, calcium, and magnesium) and are rich in antioxidants. Although nutritive sugars, they have a low glycemic index and add a faintly earthy, rich flavor that complements rather than overpowers fruit, cola, or citrus flavors.
---
Low Sugar, Low Impact
Consumers are becoming more attuned to processing initiatives that result in greater sustainability. Few can question how sustainable the interest will continue to be in sugar reduction opportunities across all categories where labeling disclosure has become both a virtue and a force to be reckoned with for the food industry. Factors such as environmental impact, water demand, land occupation, and cumulative energy required by vertically integrated systems for both cane and beet sugar are fueling interest in technologies to drive improvement. Sweeteners derived through fermentation, eyed as more artificial than not, are getting more favorable reviews for their ability to minimize use of resources and energy.
---
No Booze, Hold the Sugar
Mintel reports from studies conducted between 2017-2021 noted that 50% of new beverage launches in the US in the non-alcoholic space were high in sugar. However, that time frame also brought a flurry of new beverage entries with low to no added sugar, many of which also touted functional benefits.
---
Sugar Alcohols
The global sugar substitute market is projected to be a nearly $24 billion industry by 2025, including sales of both chemical and plant-based sweetener options. Sugar substitutes include low-intensity sweeteners, such as sugar alcohols (polyols) and high fructose corn syrup, and high-intensity sweeteners, ranging from advantame to sucralose. In beverages, polyols are used primarily to complement both nutritive and non-nutritive high-intensity sweeteners to achieve sugar reduction targets. Although most are nutritive, with a caloric content ranging from negligible to about half that of sucrose, erythritol is about 60-80% as sweet as sucrose and calorie-free. Erythritol is still widely used in applications and is projected to continue to be in high demand.