Ingredients
Sauces & Stocks & Bases & Reductions & Condiments
Hot Stuff: Red Jalapeno Puree, Peppers Remain on Trend
Cooking sauces represent a convenient alternative to creating recipes from scratch
January 20, 2021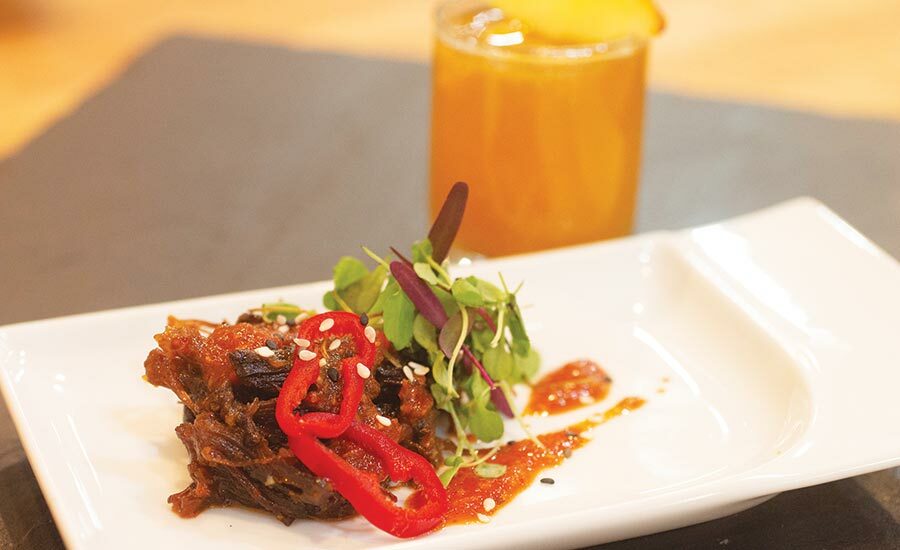 Prepared cooking sauces remain popular for consumers and represent a $190 million category; up +6% versus prior year (Nielsen: Total U.S. x AOC 52 Weeks Ending 4/25/20). With exception of 2020's shelter-in-place, Americans are spending less time preparing meals at home and cooking sauces represent a convenient alternative to creating recipes from scratch.
After dining out and trying a new flavor, consumers want to experiment with new tastes at home. American palates have recently taken their dining cues from fiery, authentic flavors of Latin, Asian, African and Indian cuisines. Adventure-seeking consumers celebrate the ethnic roots of spicy profiles, and sauces allow consumers to connect to the amazing flavors of a region right from grocery store shelves.
Ssamjang, the Korean-inspired Gochujang sauce, has the spicy and savory flavor punch US consumers seek, and red jalapeno puree is the main ingredient. Ssamjang delivers zingy flavor to recipes, and its fermented ingredients also may contribute dietary benefits such as replenishing gut flora and maintaining a healthy weight. Gochujang is catching up to the now ubiquitous Sriracha sauce, which also uses a base of red jalapeno puree.
Zhoug and shatta are two sauces from the Middle East that are gaining ground too. Zhoug is similar to chimichurri sauce, but is thicker and made from spicy chilies, onion, garlic, cilantro and parsley. Shatta also uses parsley and cilantro but incorporates red jalapeno puree and tomatoes for a slightly sweeter profile.
Spicy red peppers are also in cuisine with North African flavors. Peri Peri sauce is rising in popularity, and it uses the North African Bird's Eye Chile. We will likely see variations of Peri Peri as a base for future sauces as American palates are trained to go to the next level of heat.
Similar to red jalapeno peppers, chile peppers also provide such health benefits as being low in calories but high in potassium, vitamin A and C. Chiles are versatile and can be frozen, roasted and retorted in processing. Chiles in many forms—including diced, puréed, frozen and IQF—give manufacturers flexibility for formulations without losing integrity of the ingredient. Green chiles are among the most widely used in the U.S. because of their mild flavor, ranging from 0 to 300 Scoville units. Green sauces continue on trend, including green salsas, enchilada sauces and moles.
Scaling up recipes requires exchanging or modifying ingredients with more desirable blending or storage characteristics (dried, powdered or frozen versus fresh). Other factors could include cost or traceability of unusual ingredients that require sourcing from new countries or regions. Some organic spices and peppers (Aji Amarillo) may come with a new set of problems. Manufacturers now have to consider potential radioactivity or contamination with new viruses or bacteria and bias associated with country of origin. The depth to which we have to examine the origin of the material is stringent. For example, common filtration aids like bone char or enzymes produced using animal products (dairy-derived ingredients) can make perfectly innocuous ingredients unsuitable for vegan use.
Ethnic foods were a $12.5 billion industry in 2019 and are projected at CAGR of 5% through 2023, according to Mintel. Manufacturers will continue to bring the heat as American tastes seek global flavor profiles, and peppers are a mainstay in sauces that bring world flavors home.
Corporate Chef Juliet Greene and Senior Food Scientist Maggie Harvey work for Mizkan America, Inc., a Mt. Prospect, Ill.-based suppliers of vinegars (white distilled and specialty), denatured wines, wine and vinegar reductions, denatured spirits and bitters, Asian products and pepper products. Learn more at www.mizkan.com.